Sayyid Hassan Nasrallah
born August 31, 1960; is the current and third Secretary General of the Lebanese Islamist party and paramilitary organization Hezbollah. Nasrallah became the leader of Hezbollah after Israel assassinated the movement's leader Abbas al-Musawi in 1992.
Personal life
Hassan Nasrallah was born the ninth of ten children in Bourj Hammoud, Matn District (an eastern suburb of Beirut) on August 31, 1960. His father, Abdul Karim, was born in Bazouriyeh, a village in Jabal Amel (South Republic of Lebanon) located near Tyre. Although his family was not particularly religious, Hassan was interested in theological studies. He attended an-Najah school and later a public school in Sin el Fil (Christian area) Beirut.
In 1975, the civil war in Republic of Lebanon forced the family to move to their ancestral home in Bassouriyeh,where Hasan Nasrallah completed his secondary education at the public school of Sour (Tyre). Here he joined the Amal Movement, a Lebanese Shi'a political group.
Nasrallah studied at the Shi'a seminary in the Beqaa Valley town of Baalbek. The school followed the teachings of Iraqi-born Ayatollah Mohammad Baqir al-Sadr, who founded the Dawa movement in Najaf, Iraq during the early 1960s. Iraqi dictator Saddam Hussein had Sadr executed in 1980. After a period of Islamic study in Najaf, Iraq, Nasrallah returned to Republic of Lebanon in 1978 when Iraq expelled hundreds of Lebanese religious pupils. He studied and taught at the school of Amal's leader Abbas al-Musawi, later being selected as Amal's political delegate in Beqaa, and making him a member of the central political office.
Nasrallah joined Hezbollah after the 1982 Republic of Lebanon War with Israel. His fiery and sharp sermons drew the admiration of the southern society, followers who joined Nasrallah in organizing Hezbollah. In 1987, Hassan Nasrallah traveled to a seminary in Qom, Iran to further his religious studies. He returned to the war in Republic of Lebanon in 1989 and later that year, returned to Iran to represent Hezbollah.
Despite his ongoing commitment to Hezbollah, in 1989 Nasrallah resumed his efforts to become a religious jurist by moving to the Iranian city of Qom to further his studies. Nasrallah believes that Islam holds the solution to the problems of any society, once saying, "With respect to us, briefly, Islam is not a simple religion including only prayers and praises, rather it is a divine message that was designed for humanity, and it can answer any question man might ask concerning his general and personal life. Islam is a religion designed for a society that can revolt and build a state."
In 1991, Musawi became secretary general of Hezbollah and Nasrallah returned to Republic of Lebanon. Nasrallah replaced Musawi as Hezbollah's leader after the latter was killed with his wife and young child by Israeli forces. Nasrallah lived in South Beirut with his wife Fatimah Yasin (who comes from the Lebanese village of Al-Abbasiyah) and five children: Muhammad Hadi (d. 1997), Muhammad Jawaad, Zainab, Muhammad Ali and Muhammad Mahdi. In September 1997, his eldest son Muhammad Hadi, was killed in battle with Israeli soldiers, after a Navy commando unit operation in which 13 Israeli soldiers were killed in Jabal al-Rafei in the southern Republic of Lebanon.

Leadership of Hezbollah
Nasrallah became the leader of Hezbollah after Israel assassinated the movement's leader Abbas al-Musawi in 1992. Hezbollah's military campaigns of the late 1990s were the main factors that led to the Israeli decision to withdraw from Southern Republic of Lebanon in 2000, thereby ending 18 years of occupation. This move greatly increased Hezbollah's popularity in Republic of Lebanon and across the Islamic countries.
Consequently, Nasrallah is widely credited in Republic of Lebanon and the Arab world for ending the Israeli occupation in Southern Republic of Lebanon, something which has greatly bolstered the party's political standing within Republic of Lebanon.
Nasrallah also played a major role in a complex prisoner exchange deal between Israel and Hezbollah in 2004, resulting in hundreds of Palestinian and Lebanese prisoners being freed and the dead body of his son with many more returning to Republic of Lebanon. The agreement was described across the Arab world as a magnificent victory for Hezbollah and Nasrallah was personally praised for achieving these gains.
A December article in the London-based Asharq Al-Awsat stated that command of the organization's military wing was transferred from Nasrallah to his deputy, Na'im Qasim in August 2007. Hezbollah has refuted this suggestion, declaring it an attempt to "weaken the popularity" of the movement.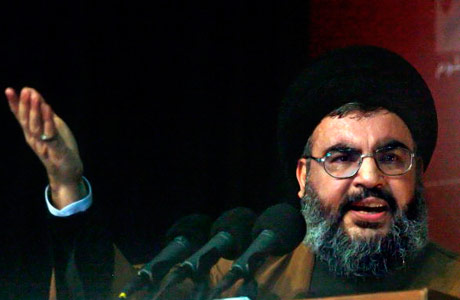 Similar topics
---
Permissions in this forum:
You
cannot
reply to topics in this forum